Get the Best Car Window Tint
At Kustom Window Tinting, we offer professional car window tinting services that can do much more than just improve the looks of your car. We're a 100% Victorian owned and operated company with over two decades of experience. Our technicians are fully capable of installing functional and decorative window tint that protects and enhances automotive glass. Whether you want to increase the overall aesthetic appeal of your vehicle or enjoy other benefits such as heat reduction, we can help.
The Benefits of Car Window Tinting
The best car window tint offers various advantages beyond simply making your car look darker. Other benefits include
Our window tinting in Ringwood and beyond increases safety for the driver of the vehicle as well as the vehicle's contents
Darker windows make it more difficult to see who is driving a vehicle, or how many people are inside. This can be beneficial for anyone driving alone
Tinted window film decreases visibility of valuables located inside the car
Our car window tinting in Nunawading and surrounds keeps glass from shattering when broken by holding the glass together
Installing automotive window tinting in Ferntree Gully and beyond not only increases a vehicle's visual appeal, but also adds comfort for both the driver and passengers
Window film blocks 99% of the sun's ultraviolet rays from entering the vehicle, resulting in a cooler and more comfortable interior
By blocking nearly all UV rays, the best quality car window tint will also protects the skin and eyes from damage
Tinted window film reduces glare from sunlight, allowing drivers to squint less and see the road more clearly
In addition to its other benefits, adding window tinting in Doncaster or surrounds to your automobile increases its visual appeal
Our car window tinting in Croydon and beyond gives vehicles a sharp, clean appearance
Window film helps protect car upholstery, keeping your vehicle looking great inside and out
New car window tint can also reduce the need to use air conditioning thus improving fuel economy.
Kustom Window Tinting has earned a reputation for providing the best window tint, including the best car tinting in Melbourne. Our points of difference include
We have years of experience and expertise
We offer both residential and commercial tinting in Melbourne
We pride ourselves on our workmanship and attention to detail
Our exclusive window tinting uses the best tools and techniques
We strive for perfection with each and every job we undertake
We offer a fully mobile luxury window tint service that comes to you
Our prices are affordable without compromising on quality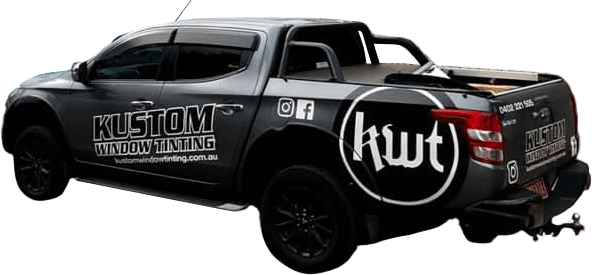 At Kustom Window Tinting, our car tint in Ringwood and surrounds is suitable for your everyday car, but we also specialise in classic and European vehicles. We know what film works best for your automobile. Our luxury car window tinting looks great and effectively protects your vehicle interior while reducing heat.